Published with permission from MomsRising.org.
By Khadija Gurnah
The Trump administration and Attorney General Jeff Sessions instituted a "zero tolerance" policy to criminally prosecute 100% of people who have crossed between official border crossings, regardless of whether they are seeking asylum, resulting in the wholesale separation of over 2,000 children from their parents who were traveling together.
Seeking asylum is a right guaranteed by United States and by international law, however under the Trump administration asylum seeking parents are being arrested, taken to court, and in some cases sent to federal prison.
President Trump's June 20th Executive Action did not end the zero tolerance policy, and did not stop the continued detention of children – rather it allows for the detention of children with their parents, while also speeding up the process for deporting immigrant families applying for asylum.
A federal judge ruled a halt to most, not all, family separations at the border, but we expect the Trump administration to appeal this decision and to accelerate its efforts to build family detention centers. Congress must continue to hold the administration accountable for reuniting the 2,000+ families who have been separated and ensuring that no additional  families are separated or incarcerated.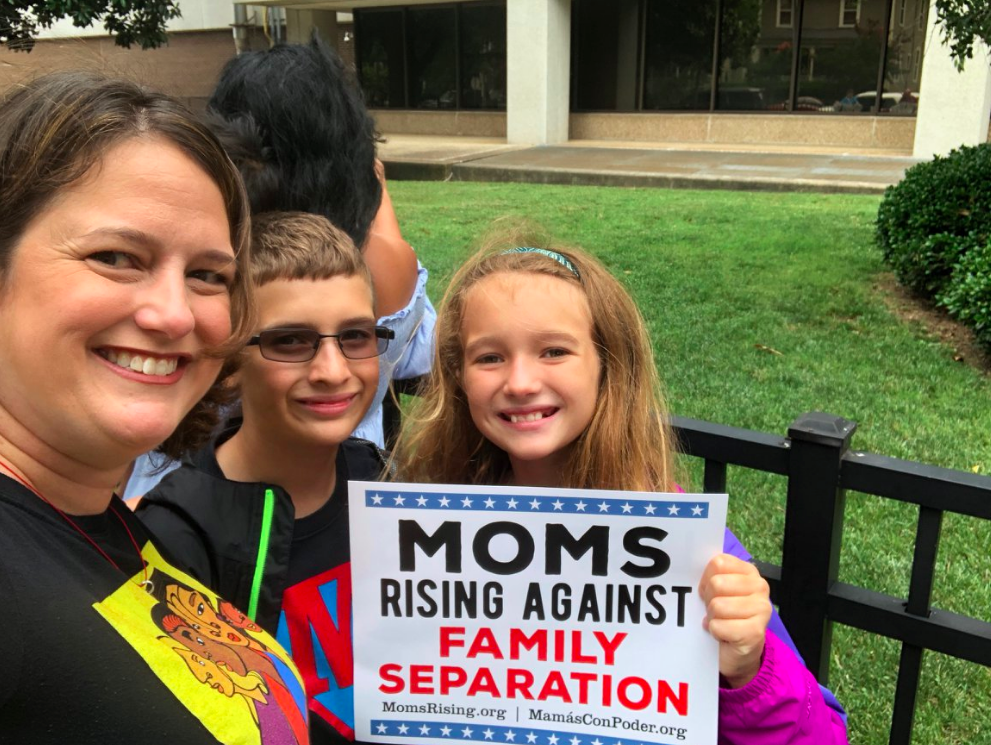 The Impact of Family Detention on Children
It is well-documented that family incarceration has serious negative consequences for the mental and physical health of children and families. Research has consistently shown that even a short amount of time in detention is harmful for children, compounding the trauma they have already experienced in their home country and on their journey.
Additionally, children who are separated from their parents suffer additional harm from these experiences. Citing psychological research, the American Psychological Association recently warnedthat this practice "threatens the mental and physical health of both the children and their caregivers… Negative outcomes for children include psychological distress, academic difficulties and disruptions in their development." The painful effects of this practice will echo through generations, harming the futures of thousands of children.
The Family Case Management Program
There are better alternatives for asylum seeking families that actually cost less than detention. Undocumented immigrants and families seeking seeking asylum and other legal pathways often have family and a community in the US. There's strong incentive for them to show up in court and comply with immigration requirements.
Under the Family Case Management Program, (FCMP), which the administration terminated in 2017, children and their parents were placed into a program that provided individualized family service plans, and had a proven 100% success rate ensuring the family attend their hearings.
Case management supervision programs are the best option as:
children are kept with their parents,
families are given a fair day in court,
children are afforded the opportunity to grow in a healthy environment,
FCMP costs only $36 per day per family, in comparison, family detention costs on average $798 for a family (2.5 individuals).
We Must Do Better!
Children deserve to be with their families outside of cages and they deserve to have their rights protected. Families should not be imprisoned. Proposing to reunite children with their families and then imprisoning them indefinitely in jails or detention centers is no solution, nor is forcing them to return to the violence and danger they risked their lives to flee.
We call on Congress to engage in aggressive oversight and to ensure that the administration:
Reunites families now. The administration must permanently stop separating children from their parents and immediately reunify those that have been separated. ICE needs to release parents immediately so that ORR can reunify them with their children.
Ends family detention. Children and families deserve due process, not indefinite imprisonment. Children do not belong in baby cages and internment-like camps. Family incarceration is not the solution to family separation.
Ends "prosecute everyone." The Trump administration must reverse their "zero tolerance" policy that created this crisis that resulted in thousands of children being separated from their parents.
How You Can Take Action Today
Sign this petition   https://action.momsrising.org/sign/Stop_Family_detention/
---
---
---