>>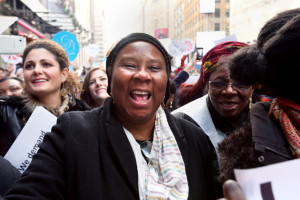 This week marked >>Women's Equality Day , the 95th anniversary of women's right to vote. Despite nearly a century passing since then, we are still far from equal. Women work harder for less pay, get unequal health benefits, and still face sexism and violence on a daily basis.
Here's a snapshot of women's inequality in North Carolina alone:
NC women earn 78 cents for every man's dollar.

Single women with children have the lowest median income ($20,000/year) of any type of family in our state.

North Carolina does not guarantee maternity leave, nor provide paid family leave for workers.

Despite making up half the population, women hold only a quarter of the seats in the NC Legislature.

20% of adult women statewide lack health insurance. State leaders have refused to expand Medicaid, a move that would provide health coverage to hundreds of thousands of women.

The Equal Rights Amendment has still not been ratified in North Carolina.
The ways in which women get short-shrift are too numerous to list here. But if you're a woman — or you've met a woman — you know the struggle is more than just numbers. Daily, women fight to be taken seriously at work, care for their families, and avoid violence.
Every day we can fight these power imbalances in a number of ways. We can refuse to be marginalized; we can raise our children to believe in a fair world; we can speak out when we see inequity.
And tomorrow we can join together and bring our fight to the streets. >>The Women's Equality Through Time March and Rally is in Durham at 4:30 pm. Women AdvaNCe will be gathering at the >>L Room BnB at 4:00 pm to get ready to march behind our banner. We'll meet up with our partner organizations and shut down traffic as we move towards Durham Central Park.
At Durham Central Park, there will be speakers, including Women AdvaNCe's own >>NaShonda Cooke . It being Durham, there will also be food trucks, activities for the kids, and any number of ways to get down with the sisterhood. There will even be an after party! Check in with any AdvaNCe Team members at the event to get the details.
Not in the Triangle? You can still celebrate Women's Equality from your home. Post on social media about inequity, or host a cocktail party or happy hour to celebrate the women in your life. Contact your elected officials to let them know what's on the mind of a woman who votes, or write a letter to the editor about an issue you face due to the uneven state of affairs in our state.
>>
Jen is a the Editorial Director of Women AdvaNCe, and is a freelance writer living in Chapel Hill, NC.
---
---
---